New House Builders
What can we do for you
Planning Stages
One of the first thing that New House Builders need to consider, as with all new housing, is that the demolition stage invariably removes most or all of the greenery on site; grass, trees, shrubs. Those with preservation orders generally stay, although we have seen on a couple of occasions where this has been ignored for greater profits. This is, of course, something we strongly disagree with but have no control over.
During the application stage, you need to be able to show a wide variety of planting , most of which will need to be native in origin. Failure to score high enough in this area can cause applications to be rejected or delayed. As you probably know, this can result in expense that you can ill afford.
The last planning drawing we did, was requested when previous planning applications failed due to an inadequate planting schemes. It took us about 4 hours to redo the drawings after meeting the architects in their offices. Drawings were accepted and submitted. Planning permission was given straight away and saved the company what would have amounted to costs of £22,000 in defect liability payments
Show Gardens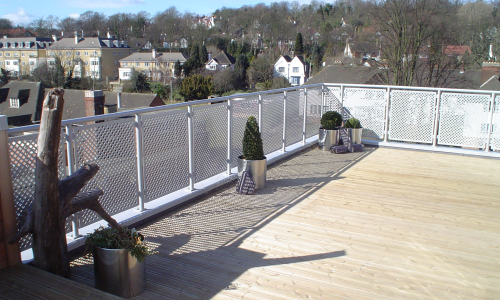 Show gardens have a very important job. It's the most powerful sales tool for New House Builders, after property design. The last 3 show gardens we have done, have sold the show home property before any other, based on the garden design.
Even though, planning application requires adhering to tight guidelines, there is always a little more flexibility with landscaping design on any shown home.
The one to the left is a 6th floor penthouse in Purley, Surrey. As parking was at a premium on this site, planting design was very limited with small borders surrounding the parking areas. We were tasked to come up with a fresh idea to sell the penthouse suite.
Simple ideas such as the highly polished steel containers for simple topiary, juxtaposed with the natural and irregular driftwood that was sourced from a local company. The company were very pleased with the results. More so, when an offer was put on the penthouse, 2 days after the showhome opened.
Another site, again in Purley, was a development of 10, 5 bedroom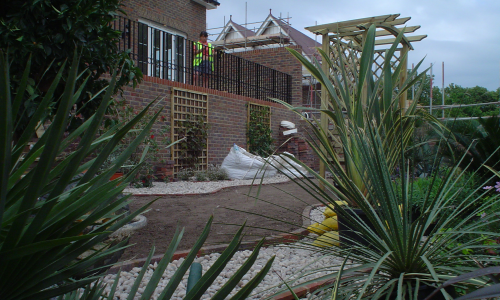 detached properties on a new estate. The brief asked for a mediterranean style garden. Approximately 20 tonnes of high quality topsoil was brought into the garden before the last exterior wall was built. In addition, 10 tonnes of cobbles and another 1.5 tonnes of plants and timber. Centre stage was an orange tree, placed in the lawn and a wide variety of Italian, Spanish,  African, South American and British plants were used for the rest of the design. We had a great deal of flexibility at his location as there were so many native trees left on the site in the communal garden areas.
Again, this property received an offer within a few days of this sales home opening. They subsequently bought the property and when we spoke to them, they told us they had bought that plot because of the garden. After learning that we had designed and installed it, they asked us to maintain the garden from then on.
Show gardens for New House Builders, sell properties and we can provide the service that will help you sell properties with more efficiency and greater ease. We can of course lay large areas of new lawn through most of the year in the individual properties and the communal areas.
Pre-Sales Maintenance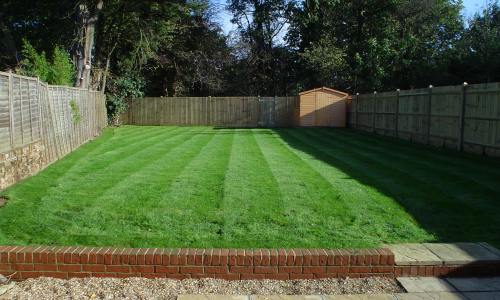 At each of the new developments we have worked on, we continued with a program of maintenance to the communal areas of the whole development and all of the front and rear gardens of all of the properties.
This continues until properties are sold. The longest we have maintained a site after handover was 19 months. In most cases, residential companies were formed and we then continued to maintain the site.
The Way Forward
LawN & Border can help all house builders with:
The Planning Process
Tenders
Landscape Drawings
Hard and Soft Landscaping
Planting Schemes
Turf Laying
Pre and Post sales maintenance
See Extras page for all additional services
Documentation (PDF will open in a new window when you click on them)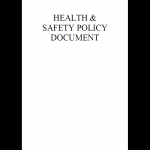 Health & Safety Policy Document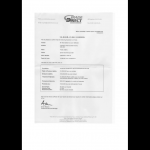 Liability Insurance Document
If you like to meet us or discuss your requirements, please call Nick Barban on 0800-093-0194.
You can also email us at nick@nickbarban.co.uk
We look forward to speaking with you soon.