Extras
In addition to the everyday jobs required to keep any site in a tidy and good condition, we offer many other Extras that can be of use throughout the year. Listed below are some of the more commonly requested Extras:
Internal – Extras
Cleaning – Vinyl Flooring Deep Clean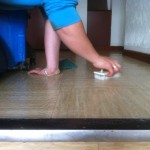 During our normal regular visits, we hoover vinyl (and carpet) flooring as standard. Every once in a while, depending on traffic levels, vinyl flooring requires something more substantial to bring the vinyl surface back to life. In most cases, this is a 6 stage process (7 is rare but it is available if you require it).
Hoovering to clear any loose muck/dirt from the surface
Clean – a hot clean with detergent to remove surface grime and grease
Surface Strip – using a stripper, we remove the topmost layer of sealant from the vinyl surface to allow the vinyl to be 'deep cleaned'
Wash – a hot wash with detergent to remove any remaining dirt and the stripper mix
Drying – surface is left to dry thoroughly
Sealant – at least 1 layer of sealant is applied to the surface. If the area experiences high levels of foot traffic, then we may apply additional layers after drying
Wax Polish – not always used as a satin finish is usually adequate, we may apply a liquid polish to the surface that will give the area a higher level of shine. Most often, it is applied in communal hallways that lack a good level of natural light and this helps brighten the area.
Drying
Any physical damage such as scrapes and gouges are cleaned but are not repaired. We do not have the materials or tools to carry out this work.
We DO NOT offer deep cleaning of carpets.
External – Extras
First Visit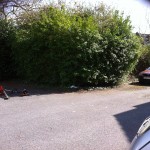 When we take over an existing site, invariably there is a lot of work that needs to be done immediately to bring the site back up to specification. This is usually because the existing site manager/gardener/cleaners have not kept on top of things; and this is usually why we have been called in to take over. Below is a list of some of the jobs that might need doing, but not limited to:
Hedge renovation
Lawn Renovation
Fence repairs
Rubbish clearance
Non-Domestic waste removal
Once the initial works have been carried out, we then revert to the standard specification on a regular basis.
Bins & Bin Stores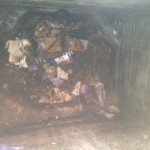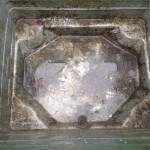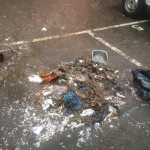 We offer one-off and regular cleaning of bulk waste bins and the bin stores. Each are power washed and disinfected. All removed detritus is taken away. We need access to an electric powerpoint and an external tap that can take a standard hose adapter. They need to be within 50m of the bin store. If this isn't possible, we can still carry out the work but there may be an additional charge.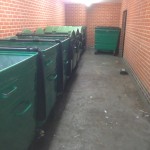 Temporary Carpet Repairs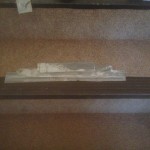 Older blocks that have highly worn carpets are not only a danger to residents but can also be an administrative nightmare if it were to cause an accident from which there may be a claim. Usually, carpets have not been replaced due to lack of funds in the client account or the carpet itself has only minor issues.
At this early stage, we can offer temporary repairs to minimise the risk to residents. We will either glue or tape the affected areas as a short term measure until professionals fit new carpet.
We are not professional carpet fitters and only offer this service as a low cost, short term fix. We cannot be held responsible for accidents arising from our repairs.
Fence Installation & Repairs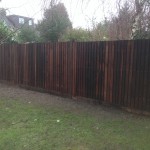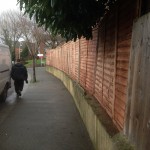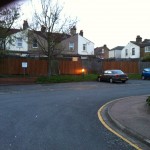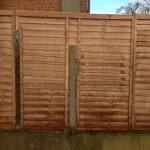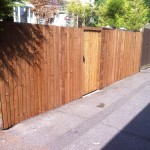 Although we may do this as part of our first visit to site, over time, additional repairs may be required. Some of the sites that we attend, we have been looking after for more than a decade. Natural products wear out and need tending to. Here is a short list of what we can do:
Panel repair
Panel replacement
Post replacement
Spurs
New fencing – panels and featheredge
Gates
Painting/protection of metalwork and railings
Of all the fencing we have put up since 2003, we have not had to return to make any repairs on any of them.
Line Painting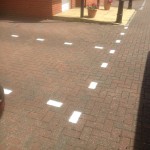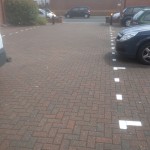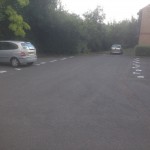 Once in a while, we are asked to repaint the car parking spaces and lines. This usually comes about from disputes by residents(new tenants) who are uncertain which parking space belongs to them. Even if the property documentation covers this. As mentioned above, over time, things wear out and this is the other reason for a 'top-up'.
Moss Clearance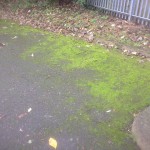 Although we do tacle moss with Jeyes fluid and other similar chemicals, some sites require a more substantial removal job. This requires power washing – usually on rougher surfaces, where it is not possible to simply scrape the moss off the surface. This can be done most times of the year.
Tarmac/Surface Repairs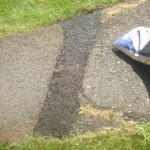 Instead of having to go to the expense of a professional surfacing company for minor surface repairs, we can use a couple of surface materials to provide a temporary repair to reduce accidents or vehicle damage. We use MOT type 1 materials on rough driveways and parking areas or cold-lay tarmac to apply repairs to any bitumen surface such as roadways and pavements. These can provide the required effect for 2-5 years depending on the level of traffic in these areas
Winter Gritting and Snow/Ice Clearance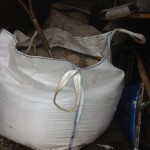 We have access to companies that can supply us with bulk quantities of winter grit to tackle more severe winter weather when it comes. Recently, we have had a few years on-the-trot with heavy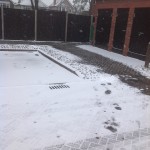 snowfall. We used approximately 5 cubic meters of grit each year on a number of sites.
Even if we don't manage your site, we can still attend site and clear/grit for you.
New Planting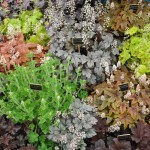 Over time, plants age and wither, get diseased or simply just go out of fashion. Part of what we do, is to inject new life into the grounds of an aging estate whilst maintaining a balance between foreign and native planting.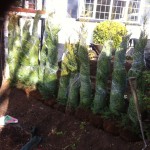 Our main consideration is for the support of wildlife and nature when looking at new planting schemes – and this is for low level plants such as annuals and perennials, but it also relates to the larger scale plants such as shrubs, hedges and trees.
This is just a selection of the most used extras that we are asked for. If it needs doing within the grounds of an Estate or Industrial unit, we can probably do it.
In fact, about the only task we cannot do, is arboricultural work as we are not qualified to carry out any tree surgery. We do however have links with a number of local reputable companies.
If you have any specific requirements or additional extras that do not appear here, get in contact with us and we can discuss your needs.