Christmas is coming and there are loads of tasks you need to start thinking about now in order to be well prepared for the festivities ahead. There are the regular ones, like deciding what presents to buy everyone; the ones you always forget, such as pre-ordering the turkey; and, new for this year, teaching grandad how to use Zoom. 
But perhaps the most important task, to be carried out with the utmost attention to detail, is deciding what drinks to stock up on.
To help you on your way we've come up with this handy guide of sippable and gluggable treats, each fulfilling a specific role in the festive drinking calendar that you might otherwise overlook until it's too late. Each one has been personally tested by at least one of us to guarantee its fitness for purpose and, as we steadily test our way through more products over the coming weeks, we'll add to this list.
For now, grandad's lesson can wait…
+++++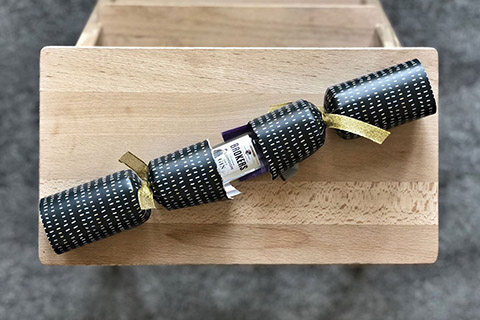 The booze-filled crackers
White Possum, Spirited Xmas Crackers (Gin)
In a bid to rid the environment of plastic tat we wholly endorse crackers that have abandoned more familiar plastic trinkets in favour of booze. There are now so many on the market that Rich recently rounded up a load for the Independent, testing bang mechanisms and jokes until he was so deaf he could no longer hear his own laughter.
This set of six gin-filled crackers from White Possum arrived too late for his review, which is a shame because they would be serious contenders for the top spot. They not only look and sound the part, but they contain the requisite paper hats and even the jokes are of an unusually high standard.
And as for the booze? It's great. Six 50ml bottles of top notch gin from the likes of Aber Falls, Brokers and Sipsmith. Cracking stuff.
++++

The party beer
Mexican beer from Cerveza Loba, Propaganda Brewing, Cerveza Fortuna
We've attended lots of celebratory events on Zoom this year, including birthday parties, reunions and festivals, and if there's one thing we've learned about helping to get things going it's to make your booze a talking point. Bragging about your booze breaks the ice, at least until the actual booze kicks in.
Earlier this year we were introduced to online retailer drinkscraft.com who specialise in nothing but Mexican beer, and the range provided an unusual talking point for our parties. The beer we enjoyed came from three breweries – Cerveza Loba, Propaganda Brewing and Fortuna – and each one of them was top notch quality.
Among the beers are plenty of sessionable IPAs, wheat beers and lagers, along with an outstanding porter from Cerveza Loba. All perfect party material. And to really excite the crowds, Cerveza Fortuna served up a couple of unusual products that are uniquely Mexican. 'Cantabeerto' is inspired by the Cantarito cocktail and is brewed with light touches of agave, grapefruit, orange, lemon and salt. And even more bizarre is Sourdino, a tamarind flavoured sour beer that comes with a sachet of Tajin (chilli and tamarind powder) taped to the bottle's neck, like a Mexican beer version of the old salt and shake crisps.
So if you've been invited to a Zoom get together this Christmas then we recommend donning your sombrero and loading up on a party selection of the finest craft beers from Mexico. Bragging rights will be all yours.
++++

The sweet wine for everything
Piesporter Goldtropfchen German Riesling Spatlese 2018 (£7.49, 75cl), 9%
Here's a challenge. What single wine style would you recommend to cover all that Christmas can throw at you? From hefty lunches to an overload of sweet confection; for lounging in front of the TV or for revving it up a notch with a party?
We're going to suggest Riesling, and this good value bottle from Aldi. It's a medium-sweet wine, which might get some folk muttering with discontent, but we think a touch of sweetness helps with everything that Christmas brings. It also has a crisp edge of citrus and a minerality which helps keep it fresh when your taste buds are under pressure from the Christmas gluttony. If it has been a while since you had a Riesling then give this a go – we reckon you're in for a sweet surprise.
+++++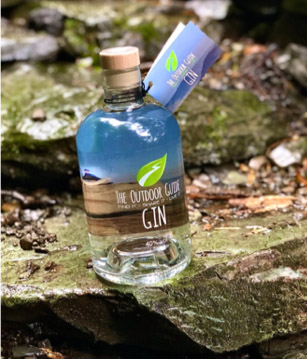 The post-work G&T
The Outdoor Guide Gin, 40%
In years gone by, the last day of work before Christmas would have us piling into the pub at lunchtime before finishing off the present buying on the way home. These days, a G&T in the kitchen at 5pm is more in keeping with the work-from-home era.
We could pick any number of new gins to fill this slot but have chosen The Outdoor Guide's gin as a reminder that access to fresh air and the outdoor environment has never been more valued than during this year of lockdown misery.
The gin is a collaboration between TV walking champion Julia Bradbury's The Outdoor Guide and the Derbyshire Distillery, with inspiration coming from the Peak District National Park. It's a smooth and clean tasting gin that doesn't go heavy on the juniper, allowing lots of floral flavours to come through along with some grassy sweetness and a minty freshness. 
Best enjoyed on top of the Peak District but, failing that, at 5pm in the kitchen makes a perfect alternative.
+++++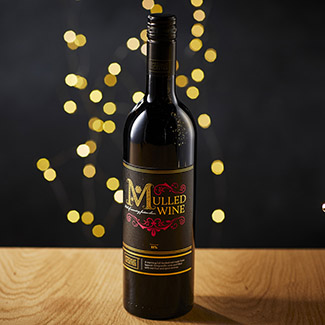 The mulled booze
Especially Selected Mulled Wine, Aldi, £4.99, 11%
Everyone should mull some booze over Christmas, if only to infuse the house with the quintessential festive aroma of cinnamon and cloves. While we usually advocate mulling your own drinks (it's handy for us to rejuvenate less than perfect cider making experiments), there's no harm in taking the short cut of buying a pre-mulled bottle.
If you're going down this route then don't splash out a fortune. A fiver is plenty, which is all you need for Aldi's Specially Selected mulled wine. With this bottle you'll get a drink that ticks all the right mulled boxes: fruity wine, spicy flavours and the all important festive aroma. And if you want to make it a bit more fancy, stick a cinnamon stick or slice of orange in each mug when you serve it.
+++++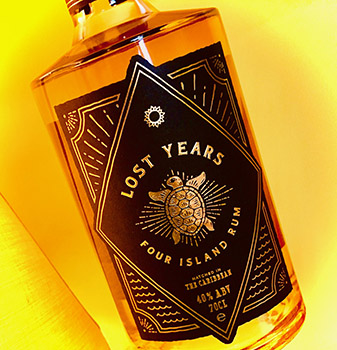 The winter warming rum
Lost Years Four Island Rum, 40%
Not many drinks can see off a nip of winter's chill quite as efficiently as rum. And for extra cold busting properties, a rum-based winter cocktail is hard to beat.
As to what rum to plunder into your Toddy, Hot Buttered Rum or Maple Winter Warmer we would like to suggest Lost Years Four Island Rum. Not only does this Caribbean blend have the warming festive flavours of cinnamon and orange, along with a smooth caramel sweetness and prickly, peppery spice, but when you buy a bottle you'll also be helping to save sea turtles.
These special creatures are under threat and, through a donation of sales, the makers of Lost Years reckon that every bottle sold can save up to ten baby turtles. As for the Lost Years name, this refers to one of nature's great mysteries. After hatching, the baby turtles disappear into the Caribbean waves and won't be seen again for up to a decade. Drink rum, stay warm, save the turtles – everyone's a winner.
+++++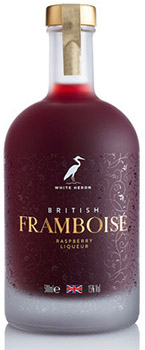 The cocktail liqueur
White Heron British Framboise, 15%
Raspberry liqueurs have always been right up there in our 'favourite liqueurs list'. It was one of the first recipes we put up on the site, and one we spent a long time perfecting for our book Brew it Yourself, introducing thyme to the infusion.
We like to sup it neat and use it for lending a vibrant red colour and tart fruity flavour to numerous cocktails, but perhaps its best use is to sink a measure into a glass of fizz when we're pulling out all the stops to impress over Christmas.
It's getting a bit too late in the year to make your own for Christmas but thankfully liqueur aces White Heron have recently released a British Framboise, made using the finest Herefordshire raspberries. It's vibrantly red and loaded with sweet and tart fruity raspberry flavours – we don't know where they got their recipe from but it's most definitely a winner.
+++++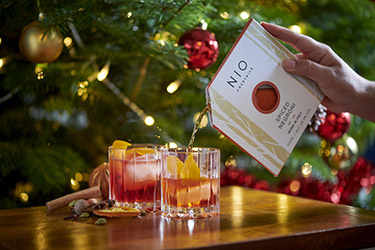 The instant cocktail
NIO Cocktails
With lockdown limiting our ability to go to bars there has been a huge surge in businesses offering pre-mixed cocktail delivery services for the home sipper. One such supplier is NIO Cocktails, an Italian brand who have impressed us with their letter-box friendly slimline packs of cocktails.
The list of cocktails they provide is long and mostly comprises classics (we were mightily impressed by their Negroni) with each one well made from good ingredients. They've also thrown in a few Christmas specials, such as an Apple Rum Punch (with a hint of absinthe), that are equally simple serves of top notch quality. And there are even a few options for the fry drinker.
Order online by selection a build your own box of 3, 6 or 9 cocktails, or plump for one of their luxury sets instead. Christmas may be a time for sharing and giving, but it's also a time to be lazy, so if you fancy a few quality cocktails without the effort that goes into making them then NIO certainly fits the bill.
+++++
Note: Each one of these products has been sent for us to review and we have chosen our favourites from the many suggestions we receive each week. We use affiliate links on some of our product recommendations.
The post The best booze for Christmas! Your guide to what to drink during the festive period appeared first on Two Thirsty Gardeners.

Source: Two Thirsty Gardeners