2020 eh? What a year. Were there times when it felt that Christmas would never come? And now that it's imminent, do you not quite know what form it will take or how to plan for it? Do we, for example, put hand sanitiser at the top or the bottom of the chimney? Do Christmas Crackers need to be a minimum of 2 meters in length? Does the 'rule of six' apply to reindeer?
Thankfully, when it comes to buying presents, we think things might be a little easier. Two trends that emerged during the summer of discontent were more people taking up gardening, and more people doing their booze drinking at home. So we'll wager that booze and gardening gifts are a safe bet for more people than ever before.
And where do you look for inspiration? Right here, of course, with our ace digging and swigging Christmas gift guide…
+++++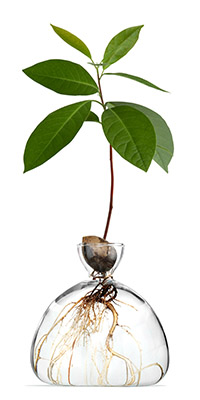 Acorn Vase and Avocado Vase, Ilex Studio
"How do you grow an avocado from seed?" is one of those odd questions that Google gets asked a lot. It seems there are loads of folk who want to grow their own avocado trees despite the chances of an avocado harvest being very slim.
But perhaps with the huge surge of interest for indoor plants, seeing a magnificent plant grow from seed in the home is more the appeal. And with these custom designed avocado seed planters those plants will look evening more stunning. 
The seed rests in a cup at the top of the planter while the water-filled bulbous base allows the roots to spread out in full gaze of its adoring owner. The same trick can be pulled off with a smaller acorn planter, and seeing as it has been a mast year for oak trees, any recipient of this gift should have no problem finding a prize specimen for growing.
Each planter comes with growing instruction so you won't ever need to ask Google how to grow them again.
+++++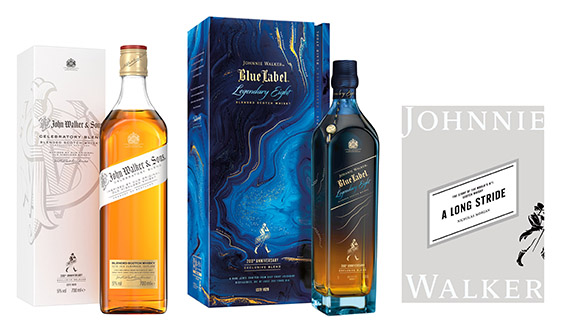 Johnnie Walker Anniversary Whisky and Book
This year the world's favourite whisky, Johnnie Walker, is celebrating 200 years of blending Scottish booze, and they've pulled out all the stops with some quality giftable bottles.
A 'Celebratory Blend', inspired by their original Old Highland Whisky, has been released at a great value-for-money £55, packaged in a beautifully designed white box that has an old photograph of the original John Walker shop in Kilmarnock rolling across the inside. 
Fans of the more expensive Blue Label should be itching to get their hands on a limited edition version of this blend, 'The Legendary Eight',  made from eight distilleries that are each over 200 years old. (The roll call is Oban, Lagavulin, Teaninch, Brora, Cambus, Port Dundas, Carsebridge and Blair Athol). We're very keen on a drop of Blue Label and this bottle, again in a beautifully presented package, is well worth picking up for someone special, retailing at £185.
Anyone wanting to find out more about the history of Johnnie Walker might also enjoy a new book stuffed into their stocking. A Long Stride: The Story of the World's No. 1 Scotch Whisky by Nicholas Morgan gives a thorough account of the brand and the people behind it, from its beginnings back in 1820, through rapid growth, the difficulties experienced by wars and the Great Depression and on to its current world domination. More than just the story of a hugely successful brand it is, in many ways, the story of blended Scotch whisky.
BUY John Walker & Sons Celebratory Blend
BUY Johnnie Walker Blue Label The Legendary Eight
BUY A Long Stride: The Story of the World's No. 1 Scotch Whisky
+++++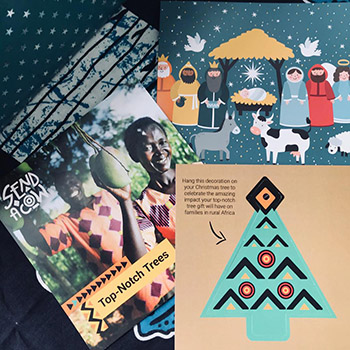 Top Notch Trees from Send a Cow
If you're familiar with the Send a Cow charity then you'll know it started out by sending cows to Ugandan farmers and expanded to provide aid to farmers throughout Africa through the purchase of sustainable, charitable gifts.
This year you can lend support by buying a Top Notch Tree gift for just £21 – the tree itself goes to where it's needed while your gift recipient will receive a gift card along with an African-inspired decoration to hang on their tree. The tree will be planted in their name and the charity aims to keep the giftee updated with growing reports and how it's making a difference to people in its African home.
We will leave the final message on why this gift is different to charity itself: "Send a Cow trees are different to your average tree-planting campaign. We understand that trees are only part of the jigsaw needed to regenerate tired land in rural Africa. The right tree, in the right place, can make all the difference. All of our trees are locally appropriate, multipurpose, and help the farmers who nurture them to overcome poverty and combat the effects of climate change."
+++++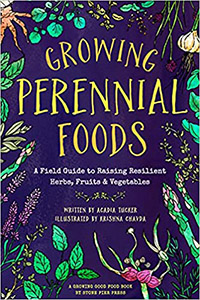 Growing Perennial Foods by Acadia Tucker
Published by Stone Pier Press
Here's a neat book to slip under the Christmas tree of someone who is new to the gardening lark, particularly if they're both environmentally conscious and want nature to do most of the labour. It's a guide to growing perennial edibles, with an extensive list of plants that fall into that category, with each one accompanied by a recipe for using them.
Besides the obvious benefit of perennial plants (they reappear every year) climate activist and farmer Acadia Tucker advocates growing them as they're more resilient than annuals and can thrive without chemicals or much water. Perfect for our lazier attitude towards gardening duties. 
The growing guides feature a wide range of herbs, fruits and vegetables, each with very straightforward instructions, simply laid out with hand-drawn illustrations for company. Besides obvious perennials like rhubarb, fruit bushes and herbs, Tucker also points us towards varieties of perennial plants that are usually treated as annuals but can be grown for a longer life, such as beans and broccoli.
Although written principally for an American audience, there's very little in the way of plant choice or instruction that doesn't translate to the UK grower and the recipes have a similar universal appeal, with such simple treats as Butternut Squash and Sage Risotto or Cabbage and Fennel Coleslaw. There are even a few drinks recipes thrown in, making it even more our kind of book.
+++++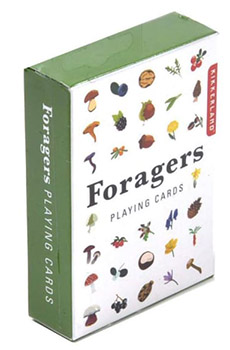 Foragers Playing Cards, Kikkerland Design
Growing up we used to love playing Top Trumps, pitting cards of legendary Wild West characters against each other in a game of mostly luck and memory (and, if our memories serve right, Wyatt Earp was the card to get if your luck was in).
These cards from New York's Kikkerland Design are a bit like Top Trumps for foragable items, with scores out of hundred based on four categories: 'edible', 'findable', 'recognisable' and 'seasonal'. Besides a bonus fact they also double up as playing cards, divided into suits, giving you multiple gaming options with which to test your luck.
+++++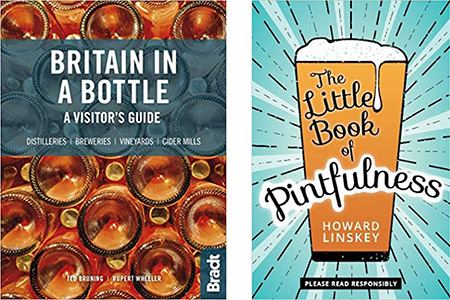 Booze Books
Britain in a Bottle, by Ted Bruning & Rupert Wheeler 
The Little Book of Pintfulness, by Howard Linskey
For those who like a book to dip in and out of we have two recent releases to enjoy – one escorts you to places within the UK where booze is made, the other is full of the kind of daft nonsense we all like to spout down the pub when we've had a few drinks.
In Britain in a Bottle, authors Ted Bruning & Rupert Wheeler take us on a tour of over 340 breweries, cider mills, vineyards and distilleries. Organised by region it has the appearance of a travel guide, but with all the museums, parks and natural wonders removed to concentrate on the good stuff: booze.
Whenever we first look books like this we hone in on our local patch to check it's up to standard and are pleased to report that Somerset is rammed with nine cidermakers and Pennard, who produce organic wine and cider. There are a few features scattered throughout, on such topics as 'apples', 'beer styles' and 'botanicals.' Easy to read, informative and invaluable for when we're all allowed to travel the land again in search of boozy adventure.
Howard Linskey, in his book The Little Book of Pintfulness, encourages us all to chill out with a few pints, advocating that beer is the perfect antidote to the stresses of modern life. It's a mixture of anecdote and fact, written in a dry humorous style, covering plenty of pub-talk subjects such as 'the lock-in' and 'the sneaky pint. It also has facts to share with your mates including 'drinking ages around the world' and even a beery ode from Edgar Allan Poe. 
Two books that are a great reminder of the importance that booze plays in our national way of life.
BUY Britain in a Bottle
BUY The Little Book of Pintfulness
+++++ 

Not Your Grandma's Riesling, 12%
If you're like us then you'll buy in a few extra bottles of wine for impromptu gifts, should anyone bearing a tinsel-clad goodie show up who you forgot to add to your Christmas gift list. In this year-of-the-lockdown such surprise visits are less likely but it's still worth being prepared.
We're liking Riesling at the moment and are thrusting it in everyone's direction. We particularly like this Aussie number, produced using minimal intervention winemaking and small batch blending. It's a zesty, refreshing kind of dry riesling, full of crisp lemon acidity, a load of fruity flavour and some essential riesling minerality. Get a load in and hope you won't need to give it all away.
+++++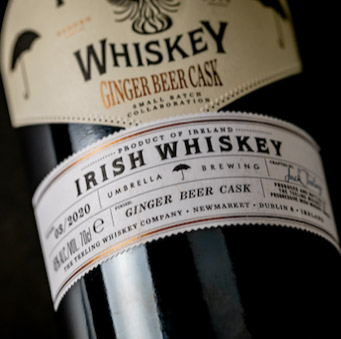 Teeling Whiskey, Ginger Beer Cask, 46%
Looking for a whisky that's a little different than usual? Irish distillery Teeling, in collaboration with The Umbrella Project, has just the answer – a whiskey that has been finished in ginger beer casks. With a lot of whiskies it can be hard to pinpoint exactly what finishing casks have contained before the whisky enters them, but not this one, the gingery perfume and warming flavours are evident from the off.
It's a super fresh, smooth sipping Irish whiskey with a ginger kick – more than halfway to one of our favourite cocktails, the whisky mac – and that makes it alright with us. 
+++++
Disclaimer: Most products featured in this list are the pick of the Christmas Gifts sent to us for review and some contain affiliate links
Main illustration ©AVA Bitter / Shutterstock
The post Praise be! It's our booze 'n' gardening Christmas gift guide 2020! appeared first on Two Thirsty Gardeners.

Source: Two Thirsty Gardeners